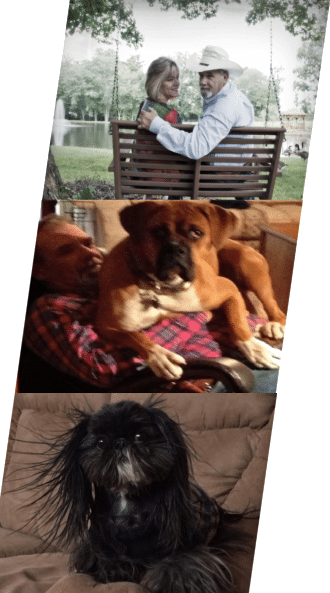 Debbie Boatright takes the triumphs and tribulations of marriage and shares inspiring and motivational experiences with wisdom. Audiences will be empowered to build strong and closer relationships with God and loved ones.
Love and Respect
Prepare for some puppy love while Debbie dishes out laughs in this talk using her precious fur babies as the launching pad for an insightful chat on marriage. She journeys with her audience through years of allowing previous disappointments to overtake the marital joy that was in front of her. Debbie relays how she re-trained her brain and her heart with God as her guide. She now lives gratefully in a marriage with her best friend, David, that has the Lord's markings all over it. (And yes, there will be dog pictures).
David is also available to share 'his side of the story.'
Debbie says "I am married to my best friend and the best man I know.
He is the love of my life and he not only allows me to tell the worst of me for Christ's sake, he encourages me and supports me through it. He is a man's man who doesn't even have a feminine side to get in touch with, but his heart is mush in the hands of our Savior."
Debbie and David have been married for over 20 years and have 5 sons, 6 grandsons, and 2 granddaughters.
They are a beloved couple in their community as they've learned to laugh out loud and laugh often.
"Each one of you also must love his wife as he loves himself and the wife must respect her husband." Ephesians 5:33
Have Questions?
If you would like to learn more about Christian marriage keynote speaking opportunities, please contact us today!
Contact Debbie